Knee Braces – they aid recovery or prolong the inevitable – what is right for you?
Custom knee braces are made specifically for the mold of your knee and specifically for your type of injury.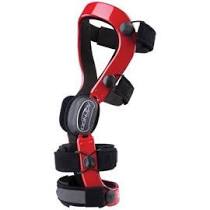 Whether it is a meniscal tear, ligamentous injury or osteoarthritis of the knee, a custom brace will be molded to conform to your body/knee type.
Osteoarthritis unloading braces can be worn for your daily activities. Clinically proven to reduce the pain associated with unicompartmental osteoarthritis of the knee, these braces are designed for average to high-impact activities, indoors as well as outdoors. It can also help reduce your reliance on pain medication and avoid negative side-effects. The brace works by offloading the pressure on the affected compartment of the knee thus keeping the knee in a stable position to minimize further cartilage damage. The pain of early OA can get in the way of a healthy lifestyle. Keep moving and staying strong may help prolong the degenerative process of OA.
Braces are also used extensively following traumatic knee injuries that compromise the stability of the knee. With clinically-proven technology including specialized hinges plus innovative, high-tech carbon composite, these featherlight braces provide durable support for moderate-to-severe ACL, PCL, MCL and LCL instabilities, both pre and post operative. Plus, the low-profile design fits comfortably underneath clothing and sports uniforms, so it can been used on the field, on the court, on the slopes and in the water protecting knees and providing confidence to those who wear it. 
Not sure whether a brace would be right for you – please reach out for a consult and to learn more.  We are always happy to educate on what is best for you and your current situation.
Stef