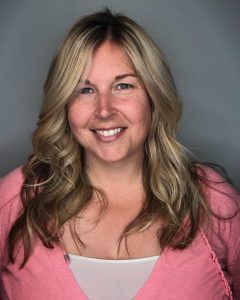 Stefanie Moser has been the Head Therapist for the Toronto Lynx Professional Soccer Team for the 2000-2001 season and an Assistant Therapist with the Hamilton Tiger-Cats of the CFL. These opportunities provided very valuable experience in acute care management and injury rehabilitation and led to her position as the Head Athletic Therapist for the Seneca College varsity athletes and the Varsity Therapy Clinic Director.
Stefanie has been part of the medical team for the Canadian National Women's Hockey Program for the past ten years. She has been the athletic therapist for the U22 team and the 2010 World Champion U18 team. Stefanie has also been the athletic therapist for the Senior National Women's team. She has joined them at the 2008, 2011, and 2015  IIHF Women's World Hockey Championships in Harbin, China, Zurich, Switzerland and Malmo, Sweden respectively. Locally, Stefanie has provided athletic therapy field coverage for the Unionville Milliken Girls Soccer teams and the Bantam/Minor Midget AAA Markham Waxers.
Stefanie continues to broaden her education through professional courses in an effort to provide her clientele with exceptional therapeutic services. She obtained her certification in Contemporary Medical Acupuncture from McMaster University in December 2009 and has been practicing as a Registered Kinesiologist since 2016.
Stefanie believes that balancing the body will provide optimal function and diminish pain. She feels that this can best be accomplished through patient inclusion and education throughout the rehabilitative process and wellness maintenance.
HIGHLIGHTS
* Registered Kinesiologist
* Registered Massage Therapist, Certified Athletic Therapist, Certified Kinesio Tape Provider
* Certified Complete Concussion Management Inc (CCMI) Practitioner
* Contemporary Medical Acupuncture Certification from McMaster University
* Graduated from University of Western Ontario – Kinesiology and Psychology
* Graduated from Centennial College – Diploma in Massage Therapy
* Graduated from Sheridan College – Diploma in Sports Injury Management
* Currently part of the medical team for the Canadian National Women's Hockey Team and Gymnastics Canada.
Hours:
Mondays 12-8
Tuesdays 8-4:30
Wednesdays 10-6
Thursdays 8-4:30
Fridays 8-1
Contact:
stefanie@applecreeksports.com